02 juillet 2011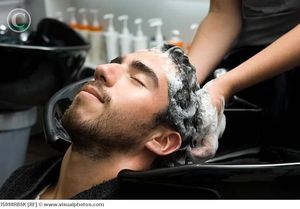 From now on my advice to my friends traveling to France will be: "Get a haircut!"
This especially applies to men – you will see that cutting hair has nothing to do with "efficiency".
Most probably your hairdresser will be a charming young lady with just enough English to follow your instructions.
You will be offered coffee and the gown, that the hairdresser puts on you, will conveniently have holes for the arms, so that you can read journals.
For the first few minutes you will feel yourself like a furry animal, while the hairdresser will be playing with your hair, estimating its texture and quality.
Then you will realize that the mirror is not centered against your face – rather it is placed in such a way that you can see the hairdresser gracefully bending while cutting your hair. She will cut it slowly and self-absorbedly, so that you will have time to appreciate her low cleavage.
But the highlight will be shampooing. She will not merely wash your head, but strike it sometimes fast, and sometimes slowly… touching different points on your scalp in order to determine what kind of stimulation causes you to smile… to shiver… to get aroused. She will give you a full head petting.
Get a haircut!
Commentaires sur Get a haircut!